Hawkfish's anticipation of a Red Mirage shaped the 2020 presidential election narrative and took a weapon out of Trump's hands.
In August, Hawkfish's survey data indicated two thirds of Biden supporters intended to vote by mail. Because many states could not quickly tally these mail-in ballots, we feared Trump would falsely declare victory on November 3, before states had counted every vote.
Hawkfish coined the term Red Mirage to describe Trump's early, illusory lead in electoral votes. We launched an earned media campaign, blending analytics, viral marketing, and selective briefings to preempt this threat to America's democracy.
On election night, the Red Mirage dominated the map. Four days after the election, news organizations declared Biden the winner in enough states for him to secure over 270 votes in the Electoral College.
A record number of Americans intended to vote by mail in 2020.
However, the majority of Republicans still planned to vote in person.
Democrats, concerned for their own health and the health of their communities, intended to mail in or drop off their ballots at much higher rates than Republicans.

Republicans, responding to Trump's false rhetoric against vote-by-mail, expressed a preference for voting in person.
Many swing states were expected to take days or even weeks to count the surge of mail-in ballots.
Republican-led legislatures in some of these states instituted requirements that made it more difficult to count mail-in ballots quickly.
Given these delays, Hawkfish understood the first ballots reported in the media on election night (in-person ballots) might temporarily show Trump leading Biden.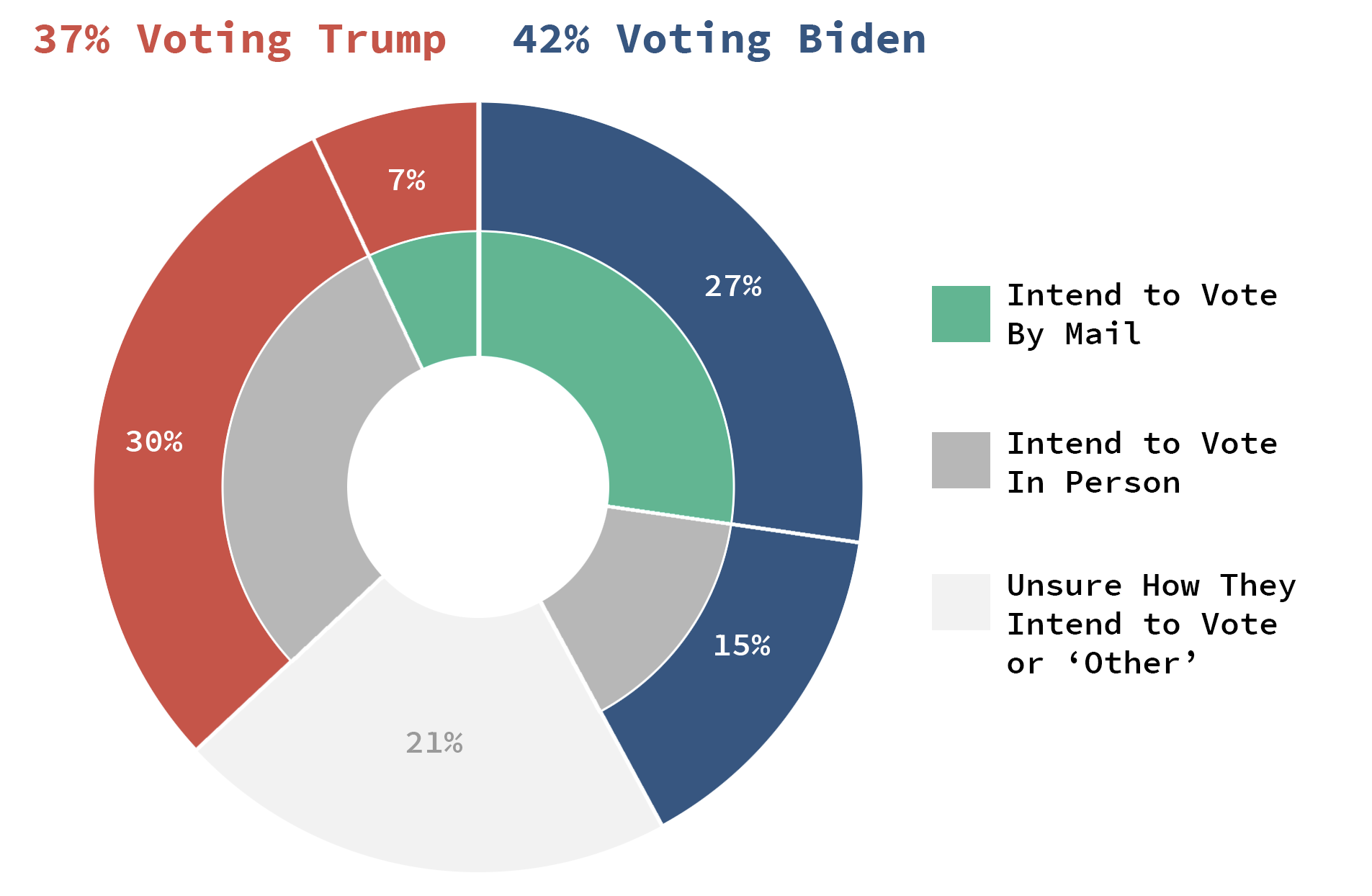 This chart shows the discrepancy between intended voting methods of Democratic and Republican voters in the general election. Likely voters were asked whether they intended to vote in person, by mail, or were unsure (not shown).
Source: Hawkfish Polling | July 1, 2020 - August 16, 2020 | n = 17,263 Likely Voters
We called this scenario the Red Mirage.
Before election day, Trump signaled his willingness to exploit the Red Mirage to question the result of the presidential election.

Hawkfish endeavored to preempt Trump's threat to American democracy and inoculate the public against disinformation about vote-by-mail.

"President Trump has told confidants he'll declare victory on Tuesday night if it looks like he's 'ahead,' according to three sources familiar with his private comments."
To better understand and communicate the
Red Mirage, we built a custom scenario generation tool, which we used to synthesize our data and create visualizations of possible election night outcomes.
Using these visualizations, we embarked on an earned media campaign, leveraging the press, politicians, and social media influencers to prepare the public for Trump's illusory lead on election night.
AXIOS on HBO: Hawkfish CEO Josh Mendelsohn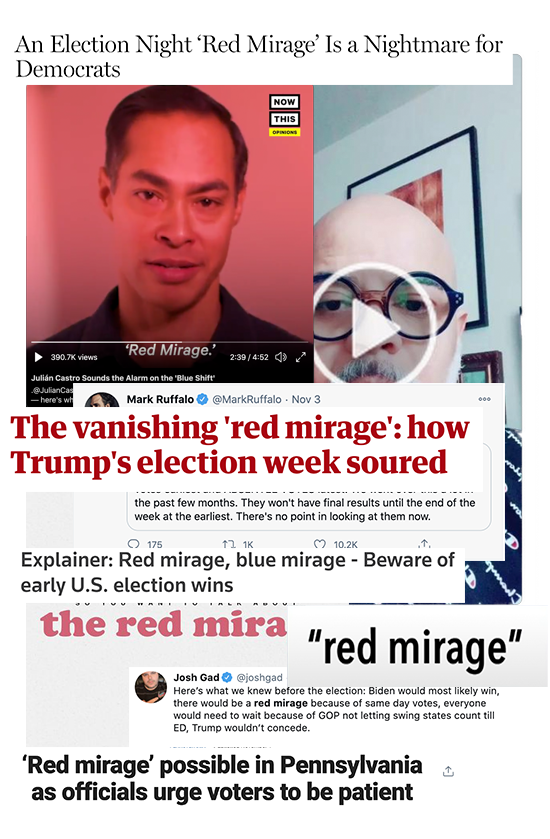 The Red Mirage concept spread across traditional and social media, explored in more than 2,000 national reports by outlets like The New York Times, New York Magazine, The Nation, The Guardian, Reuters, Fox News, The Late Show with Stephen Colbert, and MSNBC.

On social media, creators communicated the Red Mirage narrative and amplified its reach. In an explainer video posted to Twitter, former Secretary of Housing and Urban Development and 2020 Democratic presidential candidate Julián Castro said the Red Mirage "sounds like a supervillain, and it's just as insidious."
200K+ Tweets




2K+ Verified mentions

2K+ Press reports
How the Red Mirage played out in GA and PA
Although some battleground states were expected to finish their mail-in vote counts on election night, we knew others would take more time. Georgia and Pennsylvania, for example, had struggled to process ballots during the 2018 midterms and 2020 primaries.
The graphs below show how the pattern of the actual vote count and results for GA and PA were consistent with the anticipated Red Mirage.


By October, our polling evidenced the Red Mirage narrative's strength. A majority of voters expected to know the result of the presidential election after, not on, the night of November 3, disrupting Trump's attempt to preemptively declare victory.
More Trump voters expected results on 11/3, while more Biden voters expected results would come in later.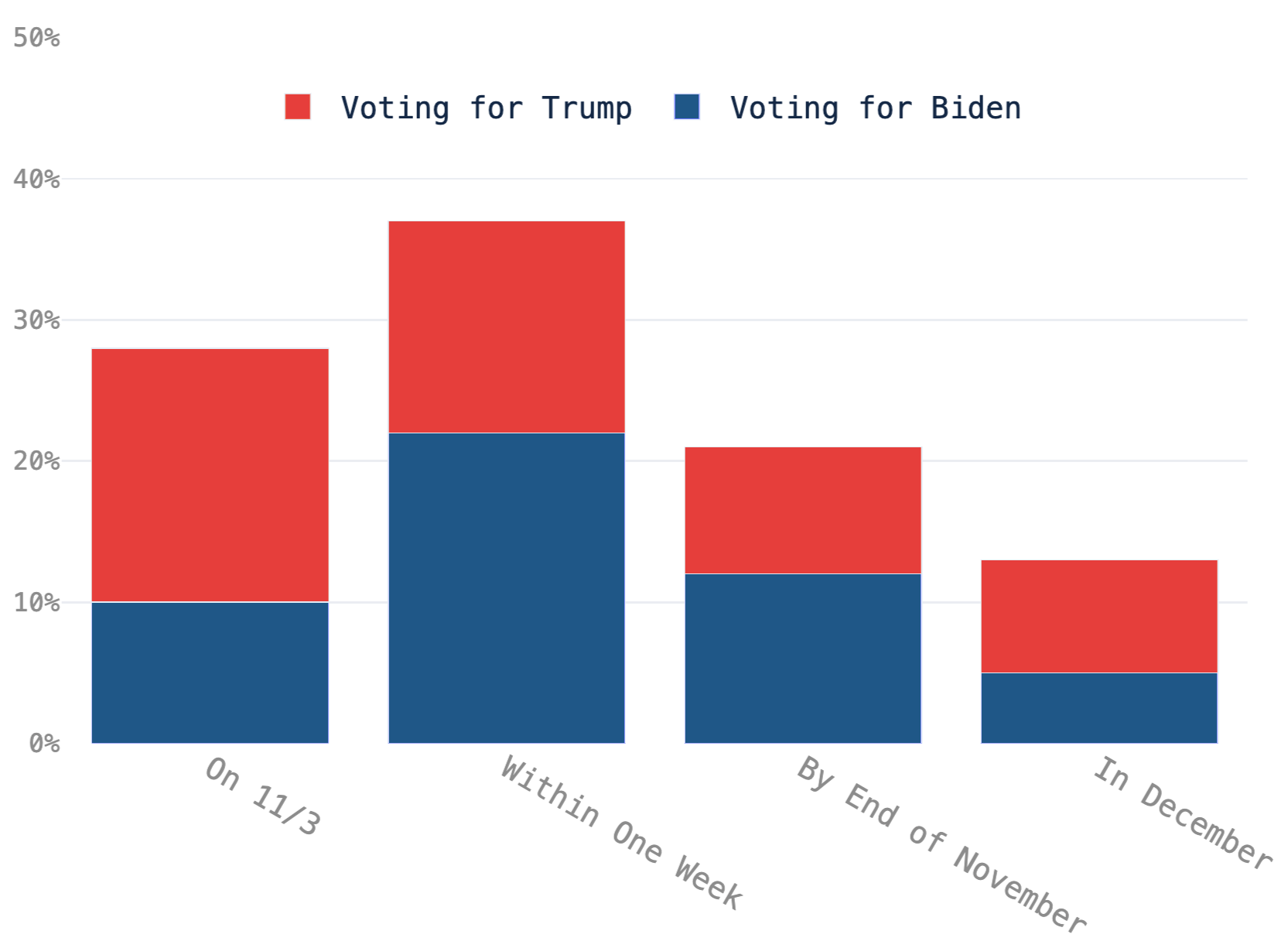 Source: Hawkfish Polling | 10/15/2020 - 10/22/2020 | n = 13,738 Likely Voters
Ultimately, Hawkfish successfully forewarned and forearmed the country against disinformation and illegitimate attempts to overturn the election's results.